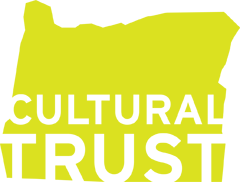 Coronavirus Relief Fund Cultural Support (CRFCS) grant awards totaling $25.7 million will be distributed to 621 cultural organizations across Oregon through a partnership between the Oregon Cultural Trust and its County and Tribal Cultural Coalitions. The funds, allocated to the Cultural Trust for Oregon cultural organizations facing losses due to the COVID-19 health crisis, were made available through $50 million in relief for Oregon culture approved by the Emergency Board of the Oregon Legislature.
Eastern Oregon Film Festival has been awarded $27,434 from this fund to offset the impact COVID-19 has had on the organization this year. Christopher Jennings, EOFF's Festival Director stated that "As an organization that traditionally relies on in-person events, individual donations and business sponsorships to drive its Nationally Acclaimed program year after year – COVID had the ability to completely stop us in our tracks. This grant award allows us to successfully pivot our program to an online format and continue the momentum we have worked so hard to build. We look forward to furthering our great partnerships with Eastern Oregon University, The Liberty Theatre and the Oregon film industry as a whole."
"Many cultural organizations and institutions have closed their doors to help keep us all safe during this pandemic. These grants will mean that more than 600 Oregon arts and culture organizations across our state's counties and Tribes will be able to keep up their vital creative work," said Governor Kate Brown. "Everything from museums to fairgrounds to the summer events we all know and love can continue to enrich our lives—connecting us to one another and giving us the hope and inspiration we need."
"These funds are life blood to Oregon's cultural community," added Chuck Sams, chair of the Cultural Trust Board of Directors. "While they won't replace all the losses suffered during the pandemic, they will ensure Oregon culture survives this crisis. We are deeply grateful to the Oregon Legislature for making this possible."
This year has been challenging for most. Small businesses and organizations have had to re-think, re-invest, and adjust plans for the future. EOFF has had to do the same in order to maintain momentum and hit their key milestone of 'Landing at The Liberty Theatre' in 2021.
To manage the loss of a physical festival this year, EOFF has invested in an online presentation platform that will enable ticketed streaming of our amazing list of official film selections. Additionally, teaming up with HQ, EOFF's festival headquarters and community production studio / venue, EOFF will be live streaming throughout the three day event. Multiple streams will be moderated from HQ with filmmakers calling in remotely.
Join Eastern Oregon Film Festival from home this year, October 22-24 via La Grande, Oregon. Your participation will further EOFF's mission to build a premiere destination event in Eastern Oregon. Activating and engaging the region around independent film, artist support, and community connection is the festival's main goal, and community participation is key to furthering this mission. For festival passes and this year's program catalog visit https://www.eofilmfest.com or follow on social media @eofilmfest.

Additional quotes are referenced from Oregon Cultural Trust's 9/23/2020 news release found here.